About me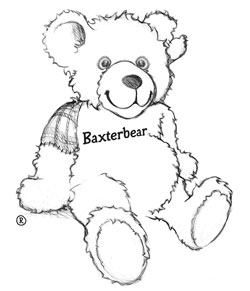 Baxterbear's favourite number is 9, so it was decided he would make his public debut in 2009 – the first 9 of the new century. It was thought that Baxterbear's experiences will help people experiencing difficulties around the world. He revealed his unique philosophy on life for the first time at the Caledonian, a Waldorf Astoria Hotel, on Princes Street at the Edinburgh International Festival.
Struan Robertson, "Science of Mindset, Spirit of Rock 'n' Roll", Be-a-ten. "Baxterbear is the kind of bear that you want to take with you wherever you go, and it's definitely the kind of bear you want to bring your children up to appreciate and play with, not just because Baxterbear is a bear, but because of what Baxterbear represents."
www.be-a-ten.com
Baxterbear has been involved with fund raising with Rotary International since 2009. His work with the charity has taken him from Great Britain to many countries, including India, Ghana, Kenya, Japan and America, to raise funds for various Rotary causes. He has also lent his support to END POLIO NOW with the Bill and Melinda Gates Foundation. Baxterbear's involvement with Rotary International is a key part of his fundraising and that association continues to this day. He also attended the 60th NATO Anniversary Dinner at St James Palace, where Prince Andrew, Duke of York was one of 300 VIPs. They all left the dinner with their own Baxterbear. Given his background, Baxterbear has been the mascot for the first British Military Tournament, formerly known as the Royal Tournament, since it started in 2010. He also likes to help out at other military events too.
He has been privileged to perform in front of Her Majesty the Queen and Prince Philip, Duke of Edinburgh and Prince William as well as his guest, David Beckham and his boys this year. They were all presented with Baxterbears as well. Baxterbear was deployed to Afghanistan with an Army Padre for six months and helped make a difference from soldiers to children. On his return, he was honoured to have met Prince Charles at Armed Forces Day. Baxterbear joined Col. Simon Vandeleur, on a fundraising for Help 4 Heroes in which they cycled from London to Flanders, Belgium to an event called A Bridge Too Far. Baxterbear continues to help raise funds for charities and individual causes around the world. He is TREEKLED, whether it be helping support the Kenyan Flying Doctors to Bear Hospice for Children in Sydney and Baxterbear's Picnic at the children's ward at Kenyatta National Hospital in Kenya, Baxterbear loves to make a difference for children.
Baxterbear has also attended various events in aid of Cash for Kids, in association with Bauer Media via radio. Christmas is always a busy time for Baxterbear between sending parcels out to the UK and US troops and children in Afghanistan. He was TREEKLED to be on the Coca Cola rotating billboard at Piccadilly Circus in London and joined the Coca-Cola Christmas lorry from Southampton to Edinburgh. Baxterbear was also invited to Harvey Nichols to promote a New Year's Eve Ball and a children's cancer charity. Baxterbear loves sport, and has attended many events over the last few years. He has met racing drivers Lewis & Nick Hamilton and British Lions' legend Gavin Hastings and been invited to train with Newcastle United FC after manager Alan Pardew heard that he was helping make a difference at the Whickham Rotary Club.
Baxterbear flew in New York to join the American Scottish Foundation and was invited to join the New York Tartan Day Parade, in between, Baxterbear met with children, US soldiers and veterans. He was TREEKLED when invited into the Hard Rock Café at Time Square and played some of their famous guitars! From being invited to 6 nations rugby at Murrayfield, to abseiling for Unicef with Matthew Pisent CBE at the Olympic Park London, and at the 2014 Glasgow Commonwealth Games, Baxterbear is an active charity bear. He has also abseiled off the Forth Road Bridge for Marie Curie, Rotary and The ABF.
Wherever you are in the world, Baxterbear is always there, whether you are a child or 9 to 99 !
"From being a charity bear to a charity bear my mission is to be positive and make a difference."
*TREEKLED means Baxterbear is positively happy.
Baxterbear's
9

Philosophies
I try to have one thought at a time, which is always a positive one.
I never hold a grudge because that part of my memory doesn't work very well. Before a memory becomes a grudge it falls out of my head.
I love the journey as much as the destination and I always try to find interesting things wherever I am. Although I love to travel and have adventures, I believe that coming home is the most exciting journey you can make.
I love people and wherever I travel I'm always amazed at the incredible things people can do when they believe and trust in themselves.
I love telling stories. Inside each one, even the very short ones, there is a lesson I learned that others can learn too.
I believe that it's just fine to be different.
I have a strong character and I'm very supportive of others, but sometimes I too need help, no-one can be strong all the time. Besides, it's a good thing to give your friends the chance to help. I believe that smiling and being happy are the best ways to get through long days and hard work.
I always have an interesting way of looking at things and I'm able to see other opportunities where other people may not.
I would never want to be the solution for anyone. Rather, I enable people to find the answer within themselves. I really am a nice fellow. I love life and all my friends but I never take myself too seriously or have any thoughts about being special. I'm definitely not a guru, just a happy.
© Baxterbear 2002-2015